HOGTRAINZ.COM
LISTEN FOR THE BEST DEALS IN HO AND G SCALE TRAINS
THE ONE AND ONLY SOURCE FOR THE SERIOUS MODELER/COLLECTOR
RESERVATIONS
AS NEW PRODUCTS ARE ANNOUNCED - HOGTRAINZ WILL POST ITEMS SO THAT YOU CAN INSURE RECEIVING THE NEWEST PRODUCTS IN HO AND G SCALE. AS LONG AS THE ITEM APPEARS ON THIS PAGE - WE WILL ACCEPT RESERVATIONS
WHEN RESERVING LOCOMOTIVES (ANY BRAND) WE OFFER THE FOLLOWING:
IF RESERVING ONE LOCOMOTIVE - STANDARD SHIPPING RATES APPLY
IF RESERVING 2 HO SCALE LOCOMOTIVES FROM SAME RESERVATION BATCH (EX - YOU RESERVE 2 BROADWAY LTD NYC DREYFUSS LOCOMOTIVES) YOU WILL ONLY PAY 5.00 TOTAL FLAT RATE SHIPPING
IF YOU RESERVE 3 OR MORE LOCOMOTIVES FROM THE SAME BATCH YOU WILL GET FREE SHIPPING (EX. YOU RESERVE 3 ATLAS GP40-2W'S - YOU WILL PAY NO SHIPPING)
FOR ALL ROLLING STOCK - ORDER 10 OR MORE FROM THE SAME BATCH - YOU WILL GET FREE SHIPPING. FOR EXAMPLE - YOU ORDER 5 ATLAS 3 BAY HOPPERS AND 5 ATLAS 6 BAY HOPPERS (SINCE THESE ARE FROM THE SAME MANUFACTURER AND SAME DUE DATE OF RELEASE) YOU WILL PAY 0.00 SHIPPING CHARGES. YOU CANNOT MIX OR MATCH MANUFACTURERS AS THEY WILL MOST LIKELY NOT ARRIVE AT THE SAME TIME
ON ALLSINGLE ITEMS THAT SELL FOR OVER 250.00 - WE WILL BE OFFERING A LAYAWAY - WITH A NON REFUNDABLE DEPOSIT OPTION. SIMPLY FOLLOW THE PAGE FOR DETAILS ON THAT PARTICULAR RESERVATION PAGE
HOGTRAINZ OFFERS THE LOWEST PRICE ON OUR RESERVATIONS PAGE. HOGTRAINZ GUARANTEES OUR LOWEST PRICE BY PURCHASING THIS WAY. MANY TIMES AFTER THE ITEM COMES IN - THE PRICE INCREASES FOR THOSE WHO DID NOT RESERVE. (WE PAY ADDITIONAL SHIPPING - ETC. AFTER INITIAL BATCH COMES IN PLUS WE NO LONGER GET QUANTITY DISCOUNT) FOR THOSE WHO HAVE PURCHASED THROUGH THE RESERVATION PROCESS - AND WANT TO COME BACK FOR MORE - WE WILL HONOR THE LOWEST RESERVATION PRICE EVEN THOUGHT THAT PRICE MIGHT HAVE INCREASED ON OUR WEB PAGE. WE HAVE EXPERIENCED A LARGE VOLUME WHO COME BACK FOR MORE AFTER THEY RECEIVED THEIR INITIAL RESERVATION SHIPMENT. FOR 14 DAYS AFTER PURCHASE WE WILL HONOR THE LOWEST RESERVATION PRICE FOR REPEAT ORDERS AS LONG AS SUPPLIES LAST!! ANOTHER GREAT REASON TO RESERVE YOUR ITEMS WITH HOGTRAINZ.COM
AS ALWAYS - HOGTRAINZ DOES NOT CHARGE YOUR CREDIT CARD TILL THE ITEM SHIPS. WHEN RESERVING AN ITEM - IT WILL COME UP AS "FREE" IN THE SHOPPING CART. WHEN THE ITEMS ARRIVE - THEY WILL BE CHARGED AND IMMEDIATELY SHIPPED TO YOU! IF YOU ARE USING PAYPAL - YOU MUST DEPOSIT .01 (ONE CENT) IN ORDER FOR SYSTEM TO ACCEPT THE RESERVATION. CHARGE CARDS WILL ACCEPT THE 0.00 DEPOSIT RESERVATION
NO RESERVATIONS WITH CHECKS WILL BE ACCEPTED UNLESS PAYMENT IN FULL IS MADE AND IS RECEIVED BY US BEFORE THE POSTED CLOSING DATE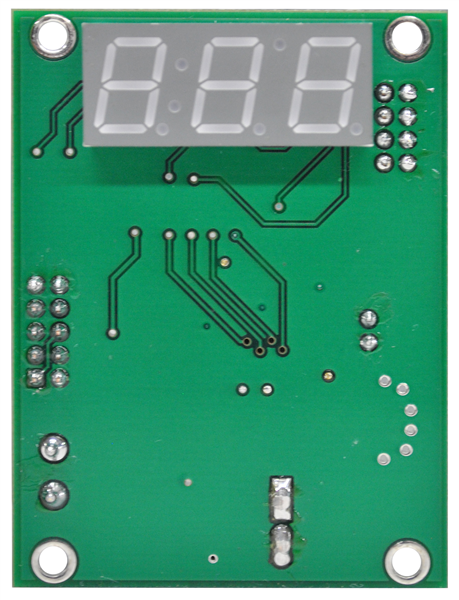 TRAIN CONTROL SYSTEMS TRAINSPEED1 AND TRAIN SPEED 4
MEASURES SCALE SPEED OF TRAINS PASSING SO THAT YOU CAN ACCURATELY MATCH SPEEDS OF LOCOMOTIVES
Delaware & Hudson
Bridge Line Freight 1960-1983 - Volume 2
In Volume 2 of Delaware & Hudson, Bridge Line Freight 1960-1983, author Dominic Bourgeois once again examines D&H facilities, overhead traffic and on-line customers, as well as local and through freight operations during the most colorful period in the railroad's history. All of the famous South-End D&H haunts are covered in detail: Albany, Schenectady, Howes Cave, Richmondville, Oneonta, Belden Hill, Ararat, Carbondale, Scranton and many more!
ETA DELIVERY - MID OCTOBER 2014
RESERVATIONS CLOSE OCTOBER 1 2014 ETA 1ST QUARTER 2015
RESERVATIONS CLOSE OCTOBER 1 2014 ETA 1ST QUARTER 2015
RESERVATIONS CLOSE 12/19/14 ETA JANUARY 2015
INCLUDES NEW ROAD NUMBERS OF US STEEL AND BETHLEHEM STEEL
ETA 1ST QUARTER 2015
FOX VALLEY MODELS HO SCALE GP60
ETA OCTOBER 2014 - LIMITED RUN
RESERVATIONS CLOSE 9/05/14 ETA 1ST QUARTER 2015
RESERVATIONS CLOSE 9/12/14 ETA JANUARY 2015
K11 STOCK CARS READY TO RUN
RESERVATIONS CLOSE 9/12/14 ETA JANUARY 2015
BACHMANN HO SCALE 4-4-0 AMERICAN - ALL NEW TOOLING
RESERVATIONS DUE 8/14/14
BACHMANN HO SCALE 2-8-2 LIGHT PACIFIC

RESERVATIONS DUE 8/14/14
BACHMANN HO SCALE 50 TON TWO TRUCK CLIMAX
RESERVATIONS DUE 8/30/14
BACHMANN HO SCALE SCENESCAPES BUILDINGS
RESERVATIONS DUE 8/15/14
INTERMOUNTAIN 5277 CU FT EXTERIOR POST BOXCARS
RESERVATIONS DUE AUGUST 31ST ETA 1ST QUARTER 2015
INTERMOUNTAIN BATHTUB COAL GONDOLAS
RESERVATIONS DUE AUGUST 31ST ETA 1ST QUARTER 2015
RESERVATIONS DUE AUGUST 11TH ETA 1ST QUARTER 2015
ATLAS 53FT JINDO CONTAINER 3 PACKS
RESERVATIONS DUE AUGUST 11TH ETA 1ST QUARTER 2015
RESERVATIONS DUE AUGUST 11TH ETA 1ST QUARTER 2015
RESERVATIONS DUE AUGUST 11TH ETA 1ST QUARTER 2015
ATLAS AEM-7/ALP-44 LOCOMOTIVES
RESERVATIONS DUE AUGUST 11TH ETA 1ST QUARTER 2015
Correct details for both delivery groups and later modified units
Road-number and era-specific details applied at the factory
Correct fuel and water tanks, cooling coils, and other details!
Full underframe detail including piping and conduit
Etched-metal "No-Warp" grills
See-through roof-top fans
Correct fuel tank skirt configurations
Operational headlight, back-up light, class lights, and number boards
Full cab interior
Sound-equipped with an ESU LokSound decoder or DC (DCC-ready)
Authentic sounds including Hancock air whistle (where appropriate)
Rapido's 5-pole, skew-wound motor and silky-smooth drive system
Macdonald-Cartier metal knuckle couplers
Several road numbers available per paint scheme
RESERVATIONS DUE FEBRUARY 2015 ETA FALL 2015
CONCOR BRANCHLINE - CUMMUTER - SUBURBAN CARS
RESERVATIONS DUE AUGUST 16TH 2014 - ETA DECEMBER 2014
ATLAS TRAINMAN THRALL 4750 COVERED HOPPERS
RESERVATIONS DUE 7/09/14 ETA 1ST QUARTER 2015
ATLAS 25,500 GALLON TRINITY TANK CARS
RESERVATIONS DUE 7/09/14 ETA 1ST QUARTER 2015
INTERMOUNTAIN F7A AND F7B UNITS
RESERVATIONS DUE 7/31/14 ETA JAN/FEB 2015
INTERMOUNTAIN R-10-10 AND ART REFRIGERATOR CARS
RESERVATIONS DUE 7/31/14 ETA JAN/FEB 2015
RED CABOOSE GENERAL SERVICE DROP BOTTOM GONDOLAS
RESERVATIONS DUE 7/31/14 ETA JAN/FEB 2015
BROADWAY LTD GALLOPING GOOSE - ON30
RESERVATIONS DUE 6/13/14 - ETA JANUARY 2015
ETA NOVEMBER 2014
KATO - HO SCALE - MAXI STACK 3 CAR SETS - ALL NEW PAINT SCHEMES
ETA NOVEMBER 2014
ETA DEC 2014
RAPIDO TRAINS FP9 SECOND HAND OWNERS
RESERVATIONS DUE SEPT 30TH - ETA MID 2015
BOWSER EXECUTIVE LINE - GMD SD40-2'S
ETA SPRING 2015
ATLAS GP38 LOW NOSE AND GP 40 LOW NOSE
ETA 4TH QUARTER OF 2014
ATLAS TRAINMAN ALUMINUM COAL GONDOLA
ETA 3RD QUARTER OF 2014
ETA 4TH QUARTER OF 2014
INTERMOUNTATIN CYLINDRICAL COVERED HOPPERS - ROUND HATCH
ETA 4TH QUARTER OF 2014
WHEELS OF TIME (HO) PIGGY PACKERS
FIRST RUN COMPLETLEY SOLD OUT - WHEELS OF TIME EXTENDED REVERATION DEADLINE TIL FEBRUARY 19TH - ORDER NOW
BROADWAY LTD - BRASS HYBRID - NEW HAVEN I-4
ETA WINTER 2014
ETA DECEMBER 2014
BROADWAY LTD BALDWIN SHARKNOSE
ETA OCTOBER 2013 - DELAYED - STILL RESERVEABLE
BLMA ATSF 62' BX-166 BEER CARS
ETA SUMMER 2014
ETA JANUARY 2014
BROADWAY LTD UNION PACIFIC MT-73 4-8-2 LOCOMOTIVES
RESERVATIONS CLOSE 10/4/13 - ETA DECEMBER 2013 - DELAYED - STILL RESERVEABLE
New Reservation Policy in effect for all items above this box
BLUFORD SHOPS (HO SCALE) TRANSFER CABOOSES
ALL FIVE RUNS - STANDYBY RESERVATIONS THEY ARE RE-RUNNING MOPAC DUE TO OVERWHELMING DEMAND